5 Tips for Birthday Parties during COVID19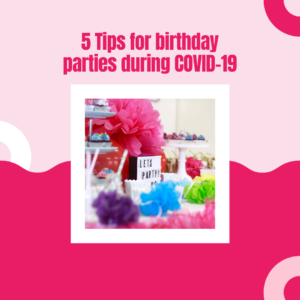 It's certainly been a tricky time, navigating our most important celebrations during a global pandemic. We are going to give you 5 tips for birthday parties during COVID19. To make your celebrations a tiny bit easier and to encourage you to keep on rejoicing those important milestones in your life and your child's life.
A birthday party is one of the biggest days of your child's life each year. It's the day when we commemorate everything wonderful about them and how far they have developed and grown in the last year. You might even be reminiscing about them being a little baby just a few short years ago, heck, maybe they still are just a little baby!
Here are our 5 tips for birthday parties during COVID19:
Don't cancel their birthday!
As we know, government restrictions can change at the drop of a hat. If restrictions cause your child's party to be cancelled, it's a great idea to try to postpone or adjust the party as much as you can so it can still go ahead. Do something super special for them still!
Kid's under about 8 years of age associate parties, the "Happy Birthday" song and blowing out candles with ageing. So, if these important elements aren't a part of their day, they can worry they haven't turned 1 year older! Gosh! Postponing their party is a great option so they have something to look forward to after restrictions ease. Alternatively, you might decorate your home, organise a birthday cake and cook their favourite meal to celebrate them while you're unable to celebrate with all of their friends.
Set up a Facebook Event
With restrictions changing quickly and guest numbers allowed in your home rising and dropping very unexpectedly, it's important to be able to keep your guests in the loop! Make sure you have parent contact details or start an event on Facebook so you can communicate those inevitable last-minute changes. Contact details are also important for COVID19 contact tracing.
You may need to let guests know that a change of venue has been necessary due to changing restrictions or that the party has been postponed until restrictions ease.
We think that sending out paper invitations and having an accompanying Facebook Event is a great way to organise your party. This can help keep everyone up to date with COVID restrictions and also all of the other exciting elements of your child's party.
Invite less guests
You might consider inviting less guests to the party to ensure you have less people gathering. This means you are less likely to be affected if restrictions change at the last minute. Have a "drop and go" style party where parents are invited to drop off their child and leave the party. This way you have less people in your home at one time.
Provide plenty of space to celebrate
Provide plenty of space for your guests to socially distance while at your party. This includes children, but most importantly any parents or adults! We are seeing lots of people opt for parties in backyards or at local parks where there is fresh air and plenty of space to spread out. It has also become normal practice to make hand sanitiser available for all of your guests. Kids are quite accustomed to using it these days…
Food and hygiene
It's sensible to offer less grazing style foods and options that involve less handling of food. Individual servings or small take away boxes filled with food are a great idea. Think about how you can present your food in a way where your guests aren't handling other people's food or sharing too many utensils. Take extra care with hygiene when preparing foods and consider catered options. The last thing you want is a guest, or worse, numerous guests getting sick at your party!
We hope you enjoyed reading our 5 tips for birthday parties during COVID19. Just remember, most importantly, keep celebrating! Birthdays are so important to our children and a way for them to mark growing older and maturing.
Check out our Brisbane Party Packages for some help planning your child's birthday party. We take care of the entertainment and prizes and help to encourage social distancing. Most definitely, we make sure your birthday child and all of their friends are having the best time.