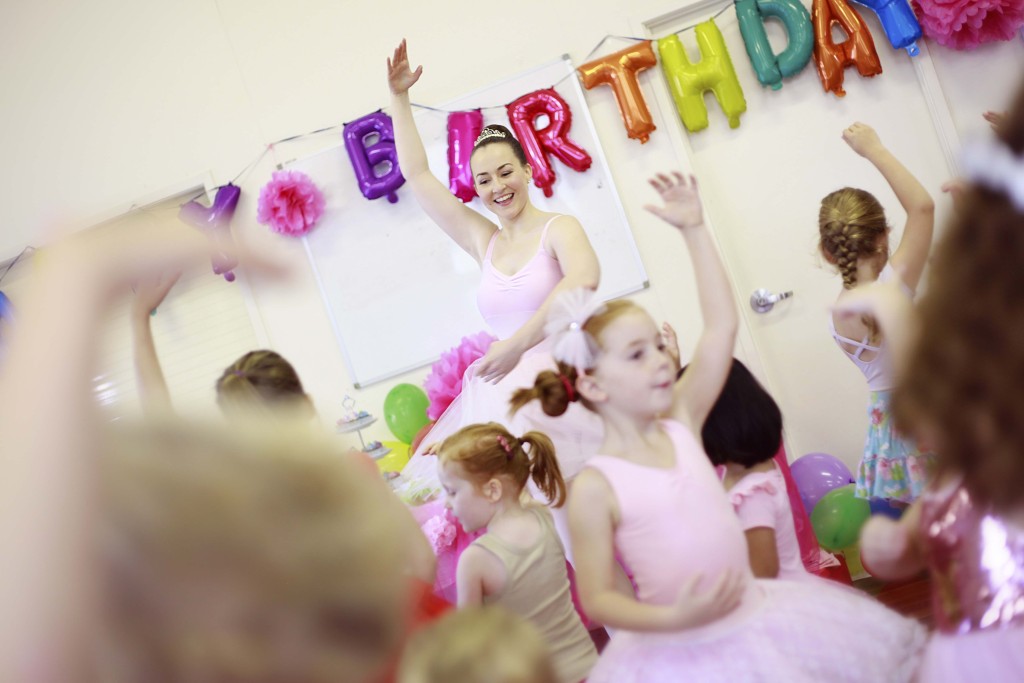 Dancing Birthday Parties
You've got soooo many ideas (or maybe it's your child who has the ideas) and don't necessarily know how to implement them to create an amazing dance birthday party. You need help. And want someone who can actually dance, to entertain your child and their friends.
This is where WE come in:
Dancing Queen Parties create memorable and unique dancing birthday parties for children. We take care of the dance entertainment, fun and prizes so you can enjoy the party just as much as your child. We keep things super convenient and easy for you.
Hi there!
I'm Liz Woods and I am the owner and director of Dancing Queen Parties. I am a qualified and registered ballet teacher with the Royal Academy of Dance. I have had the pleasure of hosting dancing birthday parties for children for 8 years. Dance has always been a HUGE part of my life. Hosting dance based birthday parties was the obvious thing to do to complement my career as a dance teacher. Also, it brings me so much joy and happy times.
What is important to me:
To create an authentic and engaging dance birthday party experience for each child. I do this by ensuring all of my entertainers are people who love interacting with children and most of all, are accomplished dancers and dance teachers. I take the time to provide you with tips and tricks so your party planning process becomes easier and as a result, your party goes off without a hitch. Best of all, we make the birthday child feel celebrated and super special.
Wanna have your own Dancing Queen Party?
Call me to discuss how I can tailor a package to your requirements or fill out our Contact Form for a call back within 1 business day. Myself or my staff can host your kids dance party in Brisbane and the Gold Coast. Phone: 0400 197 694
---
What some of our recent customers have had to say about their Dancing Queen Party
"Was the most wonderful party and will definitely be recommending to others!! Liz was professional and so easy to deal with. I'm sure it will be something my daughter will remember for years to come, it was every little girl's dream. Thank you".Katie | Brisbane
"My daughter and her friends loved Honey Hip Hop. What a fabulous way to celebrate my little girl's 5th birthday. So glad I found you, thanks so much Liz!"Meg | Gold Coast
"Liz, you were absolutely fabulous and amazing. The kids were all engaged throughout the whole time. All the parents were so impressed! Thank you for being so fabulous for my daughter's party."Liz
Liz was so wonderful with the kids and they really loved and engaged in the Pom Pom dancing. Ending with the face painting just added to their excitement. Poppy really felt celebrated, which was also my aim for the day! It was a really fun party for all.Liz | Brisbane
The happiness on the girls faces at the party, the cool calm organisation with which you arrived, engaged the girls and kindly taking pics with them before you departed. Also your extra effort due to the long travel time. As a single mum holding a party, I felt confident and supported so that I could get the food heated and served with the kids taken care of and so excited."Kelli | Gold Coast
Girls had a great time, Jasmine wants to invite Anna Ballerina to her next 20 parties she says. Other parents at the party were impressed too.Julie
Made my party planning really easy! The cost was really reasonable, I feel that it was money very well spent! The party itself, the kids had an awesome time, the games were age appropriate, inclusive and fun. The other parents and I had a great time watching our kids having so much fun and we were free to talk and enjoy the party as adults. Over the moon with our DQ party!Rhiannon | Brisbane