Kids Party Trends – Balloon Garlands
Balloon Garlands have been huge in kids party trends for a couple of years now and have no sign of disappearing from the party décor scene. They do look pretty impressive and can make a big impact at your next party, plus they are surprisingly easy to make. I was hosting a party at my home recently and documented making a DIY balloon garland. Here is a step by step guide to creating your own and staying up to date with kids party trends at your next birthday party.
This balloon garland (pictured above) took me about 1.5 hours to make – I did it over two nights before the actual party. Then a week after the party I kept it hanging in my patio area and it still looked great. So, I don't see why you couldn't make it up to a week in advance! I was pumping up balloons and tying them off whilst watching Netflix, so it was really quite enjoyable and time passed quite quickly!
Kids Party Trends
Here's how to make a Balloon Garland:
(See photos below)
🎈Blow up your balloons
in a variety of sizes (I used a $3 balloon pump from Big W). Having a variety of sizes is very important to get the "on trend" look of an irregular and not perfectly shaped garland.
🎈Tie every balloon
into a pair with another balloon. Don't worry if the balloon is a different size to it's pair, that's actually best to create that irregular look I just mentioned.
🎈Grab some fishing line
and wrap the line around the knot between the two balloons. Tie it off in a knot leaving about 1-2 feet of line to string up the garland when it's finished.
🎈Take the other end of the fishing line
and wrap it around the knot of another balloon pair, pushing the pair of balloons nice and snuggly into the first pair of balloons.
There's no need to tie a knot with the fishing line as you add on each balloon pair, just wrap the line around the balloon knot and continue adding on pairs.
🎈Repeat this step
until all of the balloons have been wrapped and attached with the fishing line. Tie off the end of the fishing line leaving 1-2 feet of spare line to string up the garland.
🎈 I used 3 Command hooks
to hold my garland up. I added some fishing line to the middle of the garland so I could lift the centre up to create the look I wanted.
(This garland has about 50 balloons and is roughly 2 metres long)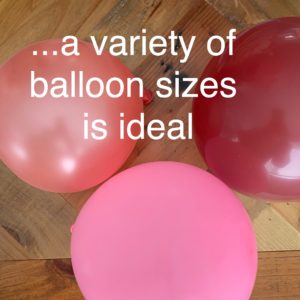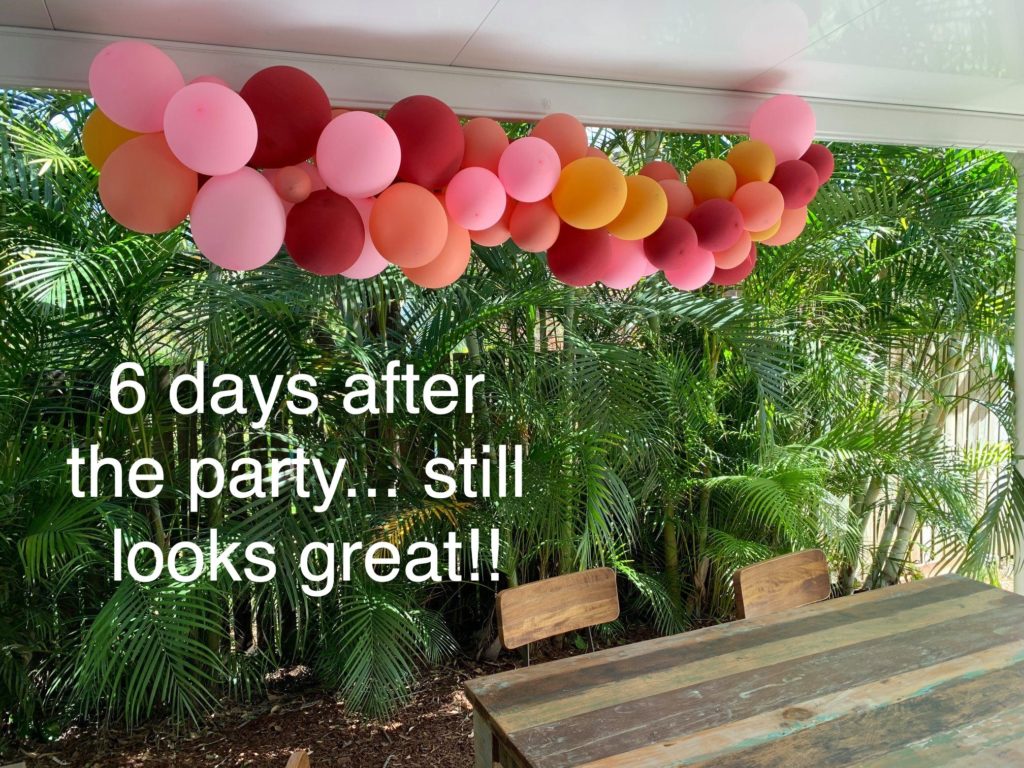 Want more kid's party decoration ideas?
Don't love to DIY but want to stay up with kids party trends? Lovely Occasions in Bulimba, Brisbane can make a pimpin' balloon garland for you! They also have DIY kits with all the supplies you need to make your own.