If you are like most mum's and dad's, you would prefer to be prepared when it comes to having a substantial group of children in your home. Here are some fun kids party activities for you.
You want your guests to be occupied at all times, a) so they have a great and memorable time, b) so they stay in your designated "party area" and don't run WILD around your house or venue and c)  even worse, so they aren't telling you they are bored. Here are some ideas to keep the kids occupied before and after your entertainer arrives.  These activities are all quite versatile and last for varying amounts of time, it is up to you how long they last and how much assistance you want to give your guests during these fun kids party activities.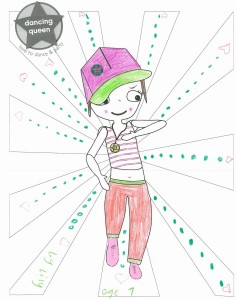 Depending on the age of your guests will determine just how much 'entertaining' they need in this waiting period. Kids who are 8 years and over can generally fill up this time with general chitchat. However, if you have a group of quiet kids, they might need some encouragement and a bit of background music to get the party atmosphere kicked into action.
Consider these fun kids party activities:
4-7 years
Colouring
We have Dancing Queen colouring sheets for all three of our dancing characters; Anna Ballerina, Charlee Cheerleader and Honey Hip Hop. Set up a colouring station with some pencils, crayons and glitter pens and invite your guests to sit around and do their best colouring. Just ask us about our colouring sheets and we will send them through to you so you can print them off ready for your party.
Dress Ups
If your party is following a specific theme…Ballerina for example, you can provide your guests with a Dressing area that they can go and pick something to borrow from you to wear during the party. A tutu, skirt, tiara, pair of wings or costume jewellery to get them into theme and feeling extra special. You might even choose to give each guest something specific that they can wear and keep as their own.
Any age
A decoration station
Decorate donuts, cupcakes or cookies. Give the kids a variety of lollies, icing, sprinkles and other toppings to cover their donut in. Display these in simple bowls and dishes with a spoon in each for sprinkling and spreading deliciousness around. This is something that is very simple to set up and execute. You can walk the guests through the steps to decorate their donut or they can work their way through it by themselves as it is pretty self explanatory.
Crafts
Making bookmarks, paper crowns, fruit loop necklaces, DIY cheerleading pom poms. If one of these ideas takes your fancy, the supplies required are inexpensive and you can find templates and tutorials online.
Wrap Up the Activity when your Entertainer Arrives
We do highly recommend letting your guests know that the activity stops once the entertainer arrives. And packing things away at this time is a good way to signify this shift in the focus from your activity to your entertainer. This will ensure the focus is on your entertainer and will create a fun and inclusive atmosphere at your party.
Keep in mind our timing recommendations
Option 1 (1hr, with your entertainer) – if you follow our recommendations there is 30 mins before your entertainer arrives that you might like to engage your guests with something simple, fun and easy. Or option 2 and 3 parties (1.5 hrs, with your entertainer) where there is only 15 mins to engage your guests before your entertainer arrives. Sometimes, mingling and chatting is enough, especially if you know most of your guests aren't likely to arrive on the dot of time.
Want to have someone else take care of all the fun kids party activities for you? Contact us about out dance party entertainment.