Swap this for that – Healthy Kid's Party food – Delicious Donuts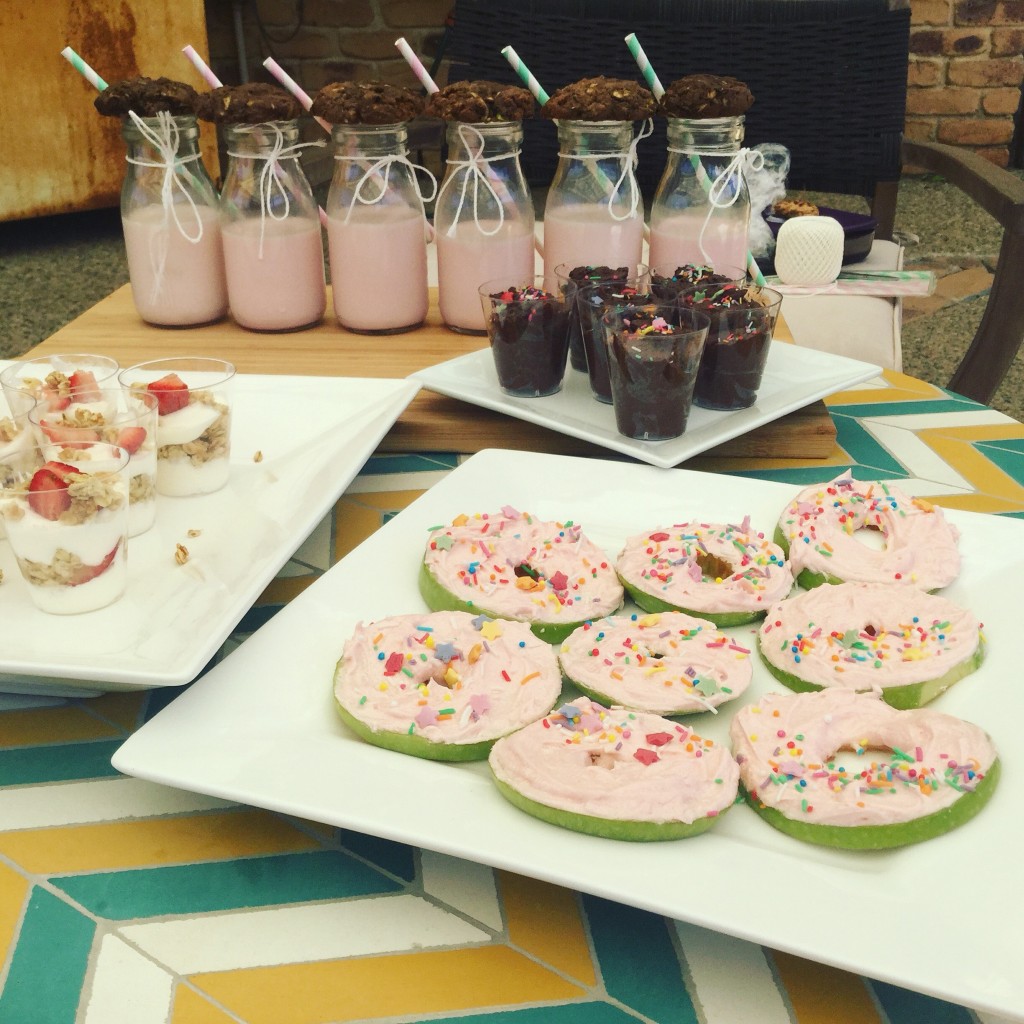 Donuts are one of the trendiest foods to have a your child's party this year. They are colourful and delicious and look fabulous on your party table. In this blog, I show you how to serve a healthier version of donuts at your child's party, something still fun and sweet, but a little lower in fat and with some added nutritional value. They are simple to make and the ingredients will be super easy for you to source. Healthy kid's party food is easy to do, you just need to think outside the box and I guarantee your kiddos will love them!
I started with two large green apples; red would work just fine too. After washing and coring them, I turned each apple on their sides and sliced them into 5mm wide discs. You should end up with donut shaped apple slices. I then made up a batch of buttercream icing, choosing pink food colouring to tint the icing. I then proceeded to spread one side of the donut apple slice with icing. Finish off with some sprinkles, and voila! You have a donut!!
This donut looks appetising and contains vitamins, minerals and about ½ the fat of a normal donut. You could replace your icing sugar with an artificially sweetened icing to cut down your sugar content. We can't get over how cute they look, how easy they were to make and how much kids love them! Good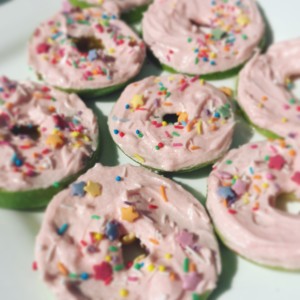 enough to eat 😛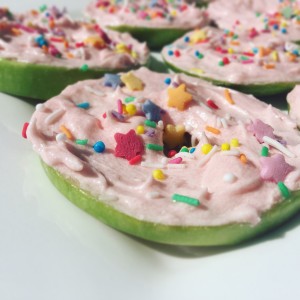 Here's the recipe
Ingredients: to make approx. 16 donuts
2 green apples
Sprinkles/100's & 1000's
Icing:
90g butter
3 cups icing sugar
1 tsp vanilla essence
¼ tsp salt
3 tbsp milk
5 drops of red or pink food colouring
Method:
Clean and core apples using a fruit corer.
Lay each apple on its side and use a sharp knife to slice into 5mm discs.
Make up a batch of butter cream icing – beat butter until fluffy. Gradually ad in 1.5 cups of sifted icing sugar, beat well. Slowly beat in vanilla essence, salt, milk. Add in tint to colour icing as desired.
Spread buttercream icing on to apples using a butter knife or icing spreader.
Sprinkle with 100's & 1000's or other cute sprinkles!
For more on healthy kid's party food, check out this blog post on kids party Portion Control.