One of our wonderful customers supplied DQ with some gorgeous photos after their daughter's 5th birthday party. We were WOWed and shocked to find out that the mum had baked, assembled and planned everything featured in the photos herself, as well as taken all the gorgeous photography. Emma threw an extravagant Ballerina Birthday party for her daughter Isabella, all whilst working in Finance with nothing but a love of making pretty and delicious things and a bit (a lot) of creative flair. Emma agreed to be interviewed by DQ so we could find out how she pulled it all off. Below she shares Part 1 (of 2) of her best party planning tips so you too can be inspired to get into the DIY spirit!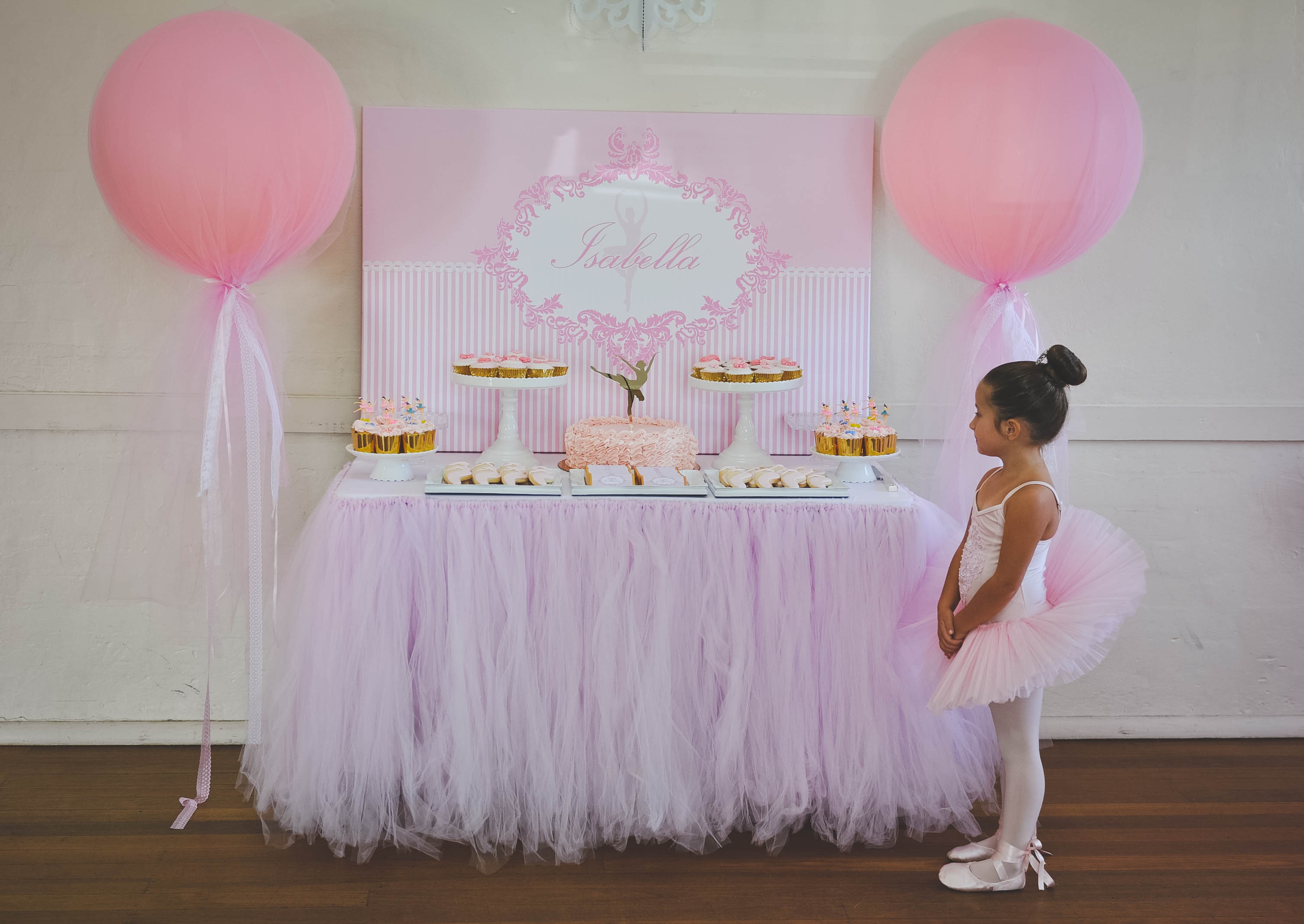 Did you make all the food yourself?
YES! Absolutely everything (except the macarons)!
I baked the cupcakes the day before and decorated them with fondant and buttercream. The lace effect and floral decorations on top of the fondant cupcakes were created with Katy Sue moulds purchased from Baking Pleasures. I also used plastic Kaisercraft stencils from my local art shop to create a damask finish on the other fondant cupcakes.
The buttercream cupcakes were piped with a Wilton 1M swirl tip and topped with plastic vintage inspired ballerinas purchased from eBay. The Robert Gordon gold baking cases were purchased online at www.bickiboo.com.au
Surprisingly the most time consuming dessert was the ballerina slipper cookies, decorated with pink fondant. I baked and decorated these over two days.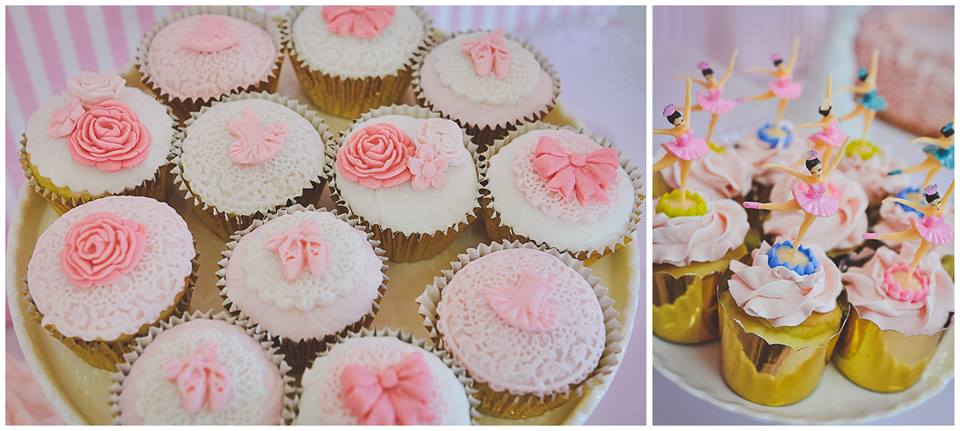 Where did you get your inspiration for your beautiful dessert table?
As for the inspiration, this was a mix of my ideas, my experiences from previous parties and Pinterest. I recommend exploring Pinterest for your dessert table inspiration. There are so many images available and you can see what works and what doesn't work.
I usually use a 4 ft table for my dessert table. I find food styled on a longer table can sometimes look a bit lost. Planning is also very important.  I always sketch my dessert table layout a month or so before the event and decide how many platters and cakes stands I will need, how many desserts will fit on each of the servers, I pick a colour theme and decide where everything will be placed. I create a mock-up of the dessert table a couple of weeks before to ensure everything flows and work out where I will place the birthday cake. I like to create height with tall cake stands and introduce new and interesting levels with shorter stemmed cake servers and pretty platters.  
Was there a food item that you found to be very popular with your guests?
The cupcakes and cookies are popular. They are always the first to go!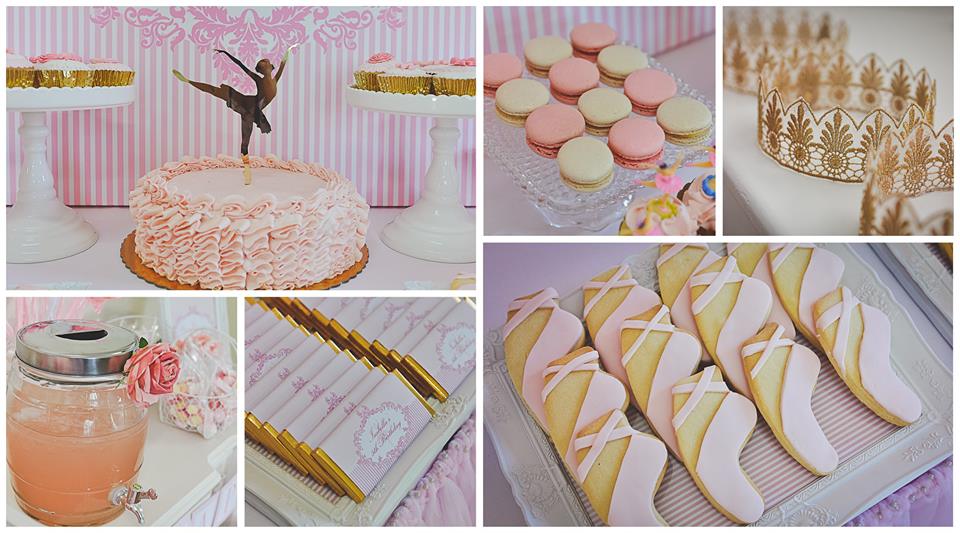 Did you bake and decorate your own cake? Do you have experience with making desserts?
I knew I would be short on time and I wanted to focus on the other desserts so I ordered a plain cake from a cake shop and I decorated it at home. I covered the cake in pale pink buttercream icing then used the same icing and a Wilton 125 petal tip to pipe ruffles around the cake. I watched a buttercream ruffle cake tutorial online to learn the technique.
Isabella's acrylic gold ballerina cake topper was made by Kyrie at Glistening Occasions. It was absolutely perfect, the height and design worked so well with the ruffled cake. The birthday girl was also extremely excited as the arabesque is her favourite ballet position.
I've never had any formal training in baking. I've been doing this for fun for the past few years for my children's birthdays.
How did you make your ballet barre?
My creative husband made the ballet barre out of PVC pipes and timber. He found instructions on the internet and purchased all the materials from Bunnings, including the spray paint. It was absolutely perfect and the most ideal place to hang the ballerina tutu's for our party guests.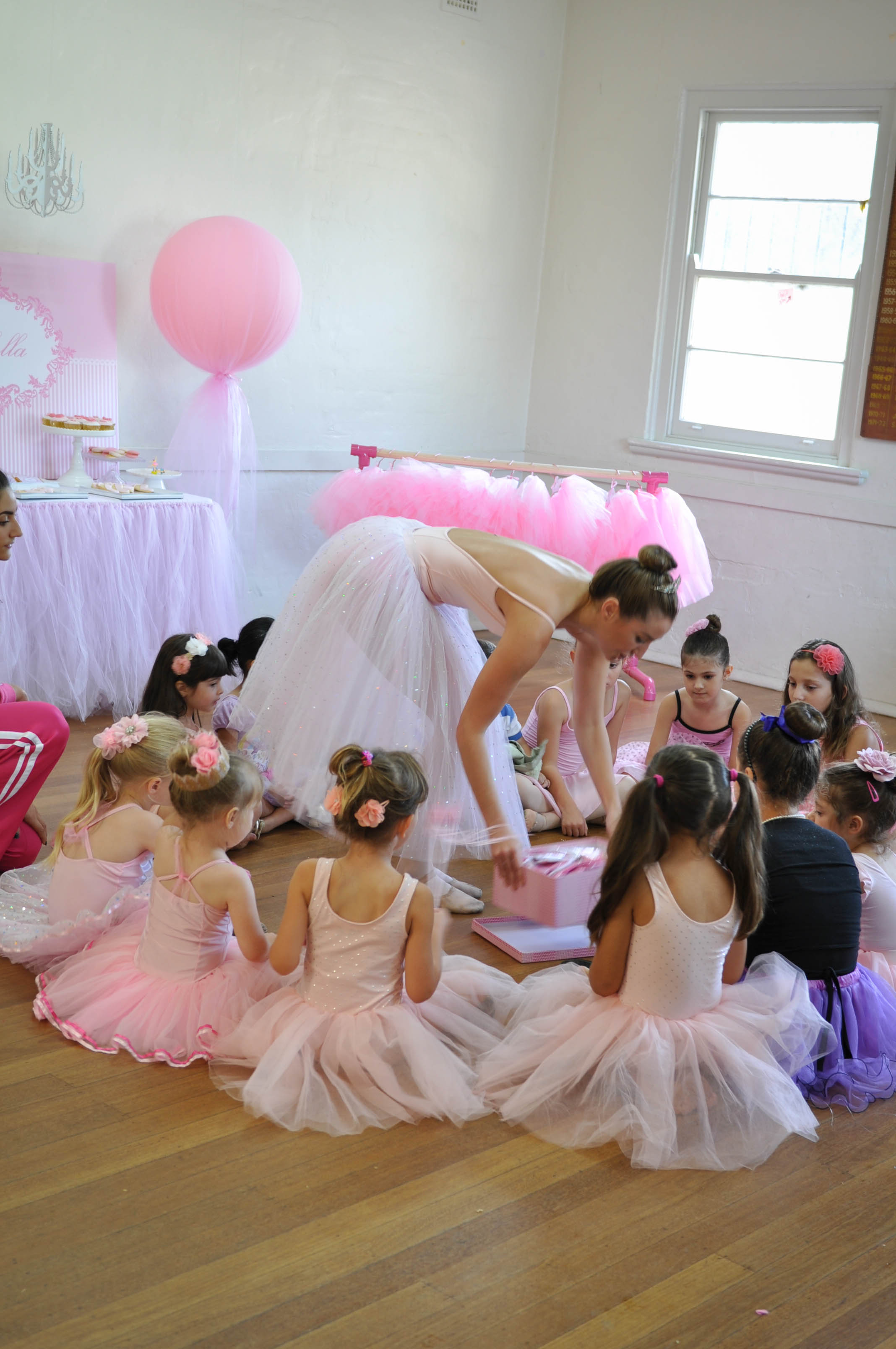 Photo credit: Emma Valentine Photography
Read part 2 to find out what Emma gave her guests as their take home gifts and what she thought about using a party hosting service like Dancing Queen Parties!
Want to have your very own Anna Ballerina party entertainer to delight and captivate your guests? Go here to find out more about our Brisbane party packages and Gold Coast party packages.