Here is a super easy recipe for some delicious ballerina cupcakes that are very much 'doable,' even for novice chefs and take very little preparation. These, along with your Dancing Queen party host (see our party packages), will beautifully complement your little ones ballet themed birthday party.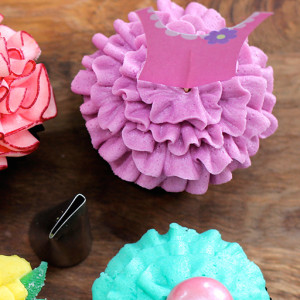 Ingredients:
Basic Cupcakes
2 cups SR Flour
¾ cup caster sugar
¾ cup milk
125g butter, melted
2 eggs
1 teaspoon vanilla essence
Basic Buttercream Icing
250 g butter in cubes at room temperature (very important to be at room temperature)
3 cups pure icing sugar, sifted
¼ cup milk
Food Colouring
Method:
Cupcakes
Preheat oven to 180C (fan forced). Grease 12 cupcake muffin pan or line with paper cases. Combine all dry ingredients in bowl with large metal spoon. Make a well in the centre and add in all wet ingredients. Combine with a large metal spoon, stirring gently until all ingredients are just incorporated. Be careful not to over mix, otherwise your cupcakes will not be light and fluffy like a ballerina!
Spoon mixture into prepared muffin pan. Bake for 12-15 mins. A tooth pick or skewer inserted into the middle of the cupcake and pulled out clean, confirms the cupcakes are cooked all the way through.
Remove from oven and place cupcakes on wire rack to cool after 5 minutes cooling in the muffin pan.
Icing
Place butter in a large mixing bowl. Use an electric beater to beat until light and fluffy (about 2 minutes). Gradually add the sifted icing sugar whilst continuing to beat, until the mixture is very pale in colour and fluffy. Gradually add the milk and beat until smooth. Stir in your food colouring until fully combined. Make sure your cupcakes are 100% cooled before icing!!!
How to ice:
Take a look at this YouTube clip of Elise from My Cupcake Addiction for a very easy icing demo using a knife. Or at this video for a slightly more challenging piped tutu buttercream icing demo for a more authentic look.
Templates for your leotard cupcake picks: ballerina-cupcake-picks Print these on some already patterned paper or card, cut them out and sticky tape them to tooth picks, then insert them into the centre of your iced cupcake.
Your guests are going to love these, we promise!!!
Want more recipes? Go see our healthy donut recipe…