Portion Control: How to create a healthy kid's party and still serve up the sweet classics.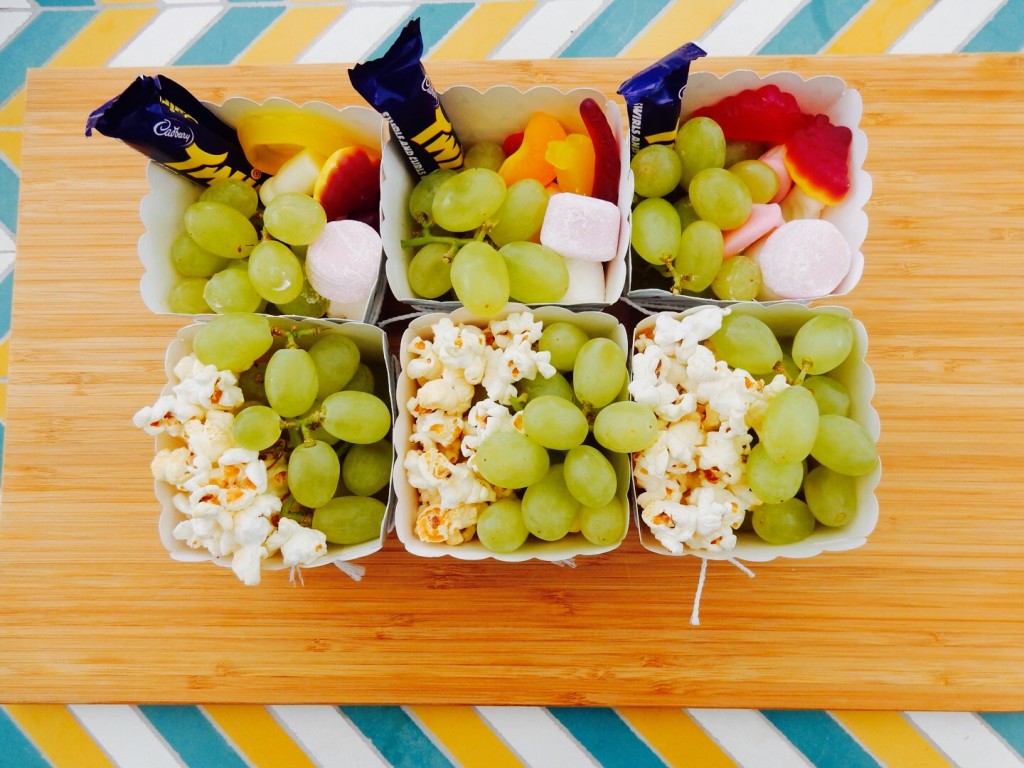 I think we have all been here… at a party, with so many delicious cheeses, dips, chips and drinks. So many you want to try that it's hard to keep track of how much you have eaten. Until it's too late and you've over stuffed yourself.  Throwing a healthy kids party is possible, and the solution is so, so simple!
If you were to place everything you want to eat on a plate before you eat it, you'd have a better idea of how much is an appropriate amount for you to eat. This is portion control. You need to put a little thought into what you are eating before it goes down the hatch as our bodies take a little while to signal to our brain that our tummy is full.
Portion Control is important for kids too! And something they need your help with, especially if you want to host a healthy and active kid's party. Instead of letting your guests graze all party long, why not give kids a serving of each item? Think plastic shot glasses for desserts, small cardboard boxes of popcorn, mini bags of lollies. You can utilize some gorgeous and cheap serving ware that can be found in KMart, Big W and Target party sections, not to mention online party supply businesses. The added bonus to this is that you can organise this ahead of time and place it on your party table at the start of the party to let the kid's go for it. There will still be room for birthday cake because kid's won't be stuffed full.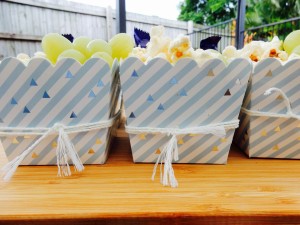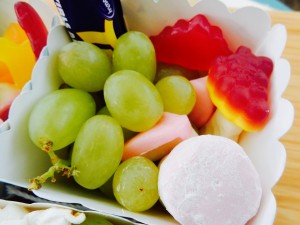 Balance sweet & savoury
We put some fresh popped popcorn and grapes in these cute little cardboard boxes from Kmart then we tied a little string around each box for an added touch. For the sweet box we placed five gummy lollies, a chocolate, 3 marshmallows and a small handful of grapes. Give kid's a few options by alternating what you place in each box, kid's can pick their favourite combo.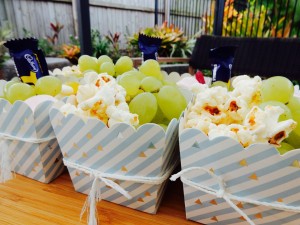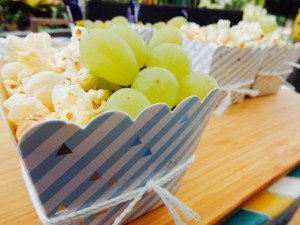 Interested in a healthy kids party or an active and healthy party for your child's birthday? Keep your guests energised and having a ball with a dance party.